Created by New York Times best-selling author
Katherine Woodward Thomas, M.A., MFT
Conscious Uncoupling™ is...
A 5-Step process for how to end a romantic union in honorable, gracious and respectful ways;
A step-by-step road map for how to break up in a way that does minimal damage to all involved;
A clear guide for how separating couples can create new, cooperative, life-affirming agreements and structures that set everyone up to win moving forward.
---
"A Conscious Uncoupling is a break up that is characterized by goodwill, generosity and respect. It is a process that leaves parties feeling valued and appreciated for all the good that was experienced. It is a shared intention to minimize the damage they do to themselves, to each other and to their children."
~Katherine Woodward Thomas, M.A. MFT

New York Times best-selling author of
Conscious Uncoupling:
5 Steps to Living Happily Even After
---
"With amazing clarity and depth, Katherine Woodward Thomas will take the splinter out of your soul and support you to end your relationship in a way that leaves you and those you care about whole and complete, rather than broken and damaged.
I love this book!"
~New York Times bestselling author Marci Shimoff
---
"Thomas proves herself compassionate and emotionally in-tune with the pain of love lost, and her guidance will likely usher many of those afflicted to a brighter, or at least less bitter, future."
~Publishers Weekly
---
"Conscious Uncoupling is a kind and compassionate guide on how to overcome break up grief and use it to transform and enrich your entire life. The process Katherine Woodward Thomas provides will not only help make your heart whole again, but will also ensure a positive, hopeful future for all involved.
A paradigm-shifting book that promises to up-level how we collectively do break ups moving forward."
~John Gray, New York Times bestselling author of Men Are from Mars, Women Are from Venus
---
"Katherine Woodward Thomas is my relationship guru. Her wisdom and guidance helped me clear all blocks to romantic freedom. Conscious Uncoupling will help you embrace the true meaning of forgiveness and restore your faith in love."
~Gabrielle Bernstein

, New York Times

bestselling author of

Miracles Now
---
---
Gwyneth Paltrow introduces Conscious Uncoupling
on

her modern lifestyle website
goop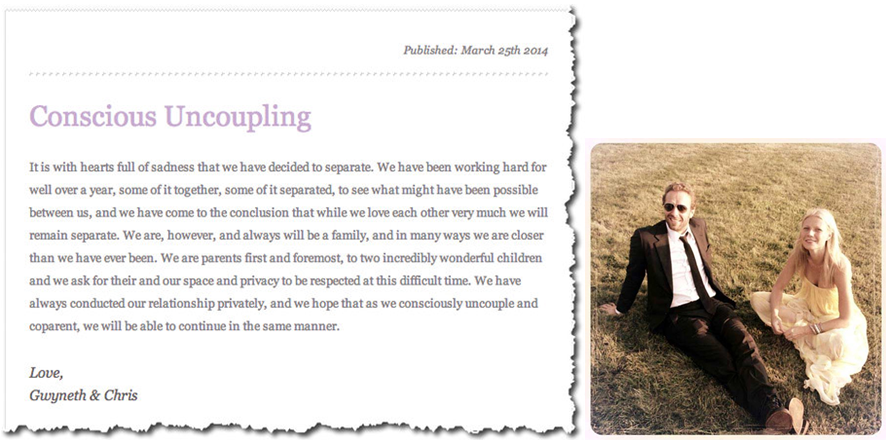 Conscious Uncoupling was made internationally famous when actress Gwyneth Paltrow and her former husband, musician Chris Martin, used the term to announce their divorce back in 2014 and, as Gwyneth says, "broke the Internet" in the process.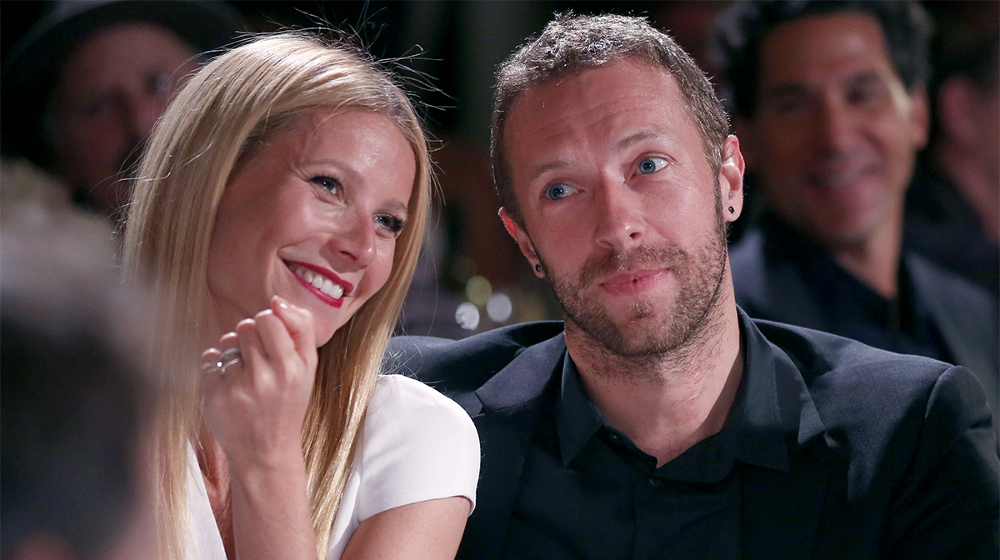 In addition to being a New York Times bestseller, Conscious Uncoupling is a clear and simple 5-step private coaching process that can empower anyone to have a loving, as well as kind, separation or divorce --- words not typically associated with a breakup.
And this can happen even when only one person engages the Conscious Uncoupling process.
The goal of a Conscious Uncoupling is never to sever the relationship. Many couples come to the work with the desire to remain friends and, especially if they share children, cooperative co-parents.
"Family structure can be reinvented and divorce doesn't have to be devastating," Paltrow has said. "It doesn't have to be the end of your relationship with somebody. I think Chris and I were meant to be together and have our kids but our relationship is much better like this: friends and co-parents and family."
---

---
"Conscious Uncoupling is not just a Gwyneth-ism…
[It's] been around for years,
though under the radar—
well, until now."

~Elle magazine
---

"Conscious Uncoupling...has now permeated the break-up culture. Instead of people approaching me with, 'Why did you say that?' they now approach me with, 'How do you do that?'

I started to wonder, as impossible as it sounded, whether there was a way we could continue to feel the structure of our family on some level. Could we create a paradigm whereby we still ate meals together? Vacation, even? Could we find levity and laugh? But more than that, could my ex continue to be a family member, someone who would continue to protect me, want the best for me? Could I be that for him?

The point of a break-up, if you have to go through it, is to grow. To use the opportunity to really look at yourself and heal broken patterns so you don't find yourself in the same situation again.

If spite blocks that process, being able to cultivate good feelings will encourage it. You loved your ex once and you probably still do, so keep those great qualities of theirs close to your heart.

Which leads me to the final and potentially most radical point: it's OK to stay in love with the parts of your ex that you were always in love with. In fact, that's what makes Conscious Uncoupling work.

Love all of those wonderful parts of them. They still exist, they can still make you feel the way you felt for that person.

Rather than shutting them out, lean into the unfamiliarity of those feelings and explore them.

We lose all the nuance of life when we make it all bad or all good. Even when they are young, children understand that love takes multiple forms.

I know my ex-husband was meant to be the father of my children, and I know my current husband is meant to be the person I grow very old with.

Conscious Uncoupling lets us recognise those two different loves can coexist and nourish each other."

~Gwyneth Paltrow (excerpted) in British VOGUE

September 2020 Issue
---