Created by New York Times best-selling author
Katherine Woodward Thomas, M.A., MFT
Conscious Uncoupling™ is...
A 5-Step process for how to end a romantic union in honorable, gracious and respectful ways;
A step-by-step road map for how to breakup in a way that does minimal damage to all involved;
A clear guide for how separating couples can create new, cooperative and life-affirming agreements and structures that set everyone up to win moving forward.
---
Originated by my mentor, marriage and family therapist Katherine Woodward Thomas in 2011 as an online course that has helped thousands to breakup better, Conscious Uncoupling provides a blueprint for separations that are most known for their bountiful acts of kindness, big-hearted gestures of generosity and goodness, and for the genuine efforts made to do the right thing for the right reasons.
---
"A Conscious Uncoupling is a break-up that is characterized by good will, generosity and respect. It is a process that leaves parties feeling valued and appreciated for all the good that was experienced. It is a shared intention to minimize the damage they do to themselves, to each other and to their children."
~Katherine Woodward Thomas, M.A. MFT
New York Times best-selling author of
Conscious Uncoupling
5 Steps to Living Happily Even After
---
"With amazing clarity and depth, Katherine Woodward Thomas will take the splinter out of your soul and support you to end your relationship in a way that leaves you and those you care about whole and complete, rather than broken and damaged. I love this book!"
~New York Times bestselling author Marci Shimoff
---
"Thomas proves herself compassionate and emotionally in-tune with the pain of love lost, and her guidance will likely usher many of those afflicted to a brighter, or at least less bitter, future."
~Publishers Weekly
---
"Conscious Uncoupling is a kind and compassionate guide on how to overcome breakup grief and use it to transform and enrich your entire life. The process Katherine Woodward Thomas provides will not only help make your heart whole again, but will also ensure a positive, hopeful future for all involved. A paradigm- shifting book that promises to uplevel how we collectively do breakups moving forward."
~John Gray, New York Times bestselling author of Men Are from Mars, Women Are from Venus
---
"Katherine Woodward Thomas brings a gentle but fiercely powerful approach to what can otherwise be such a painful experience. Through Conscious Uncoupling, we can transform the deepest disappointment into a sacred journey from sorrow to peace."
~Marianne Williamson, New York Times bestselling author of A Return to Love
---
---
Gwyneth Paltrow introduces the term via her web-site GOOP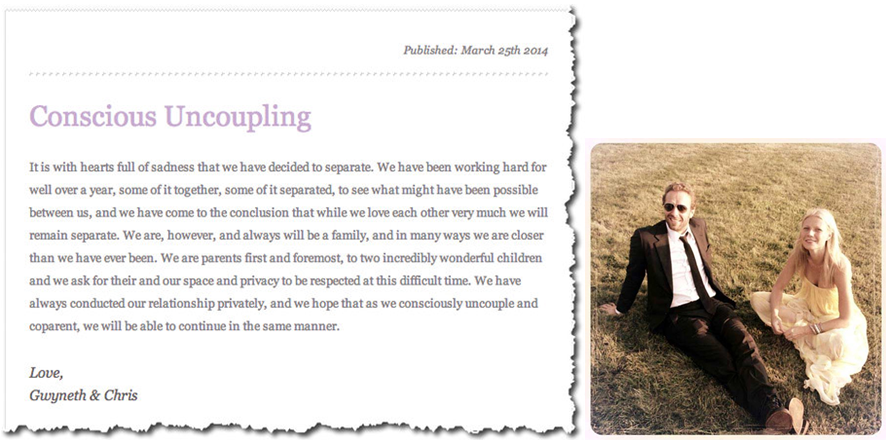 The moment Gwyneth Paltrow announced her Conscious Uncoupling from Chris Martin in March of 2014, the world was abuzz.

As a Certified Conscious Uncoupling Coach since 2012, I spoke to the New York Post regarding an emerging need for the work.

The creator of Conscious Uncoupling, Katherine Woodward Thomas, is featured in The New York Times.
I was also interviewed on "Attracting Your Soul-Mate" with Love Online Radio's Susan Winter and Laura Banks. The interview explores both Conscious Uncoupling and Calling in "The One".
---
"For learning to live happily even after, finding a way to forgive the unforgivable, and to move forward in life graciously with hope in our hearts… may very well be the essence of what it is to truly love each other."
~Katherine Woodward Thomas,
from Conscious Uncoupling: 5 Steps to Living Happily Even After

---
---
Conscious Uncoupling Private Coaching
with Melissa
As a private coaching structure, Conscious Uncoupling begins with a formal (60-minutes) introductory session. If we decide that the program is a fit for you at this time, what follows is a profoundly transformative, five-session, process designed to release the trauma of a breakup, reclaim your power and reinvent your life.
With each step, it's about breaking the old painful pattern in love and relationship. As your coach, we become partners in your transformation. I will guide you to "the root of the root" of what we call your Source Fracture (which is an unconscious false belief about who you are) as you heal breakup grief and step into the highest, and most authentic, version of yourself and your life.
Within our coaching partnership, you will receive the personal guidance needed to transform this time of heartache and disappointment into a healing, liberating and even joyful experience
Private Conscious Uncoupling Coaching Step-by-Step
---
---
Step One: Finding Emotional Freedom
~The first step in your Conscious Uncoupling process is to learn how to harness the energies of the wildly dark and difficult emotions you may be experiencing (such as rage, hatred, fear and despair) and transform them from destructive impulses to hurt yourself or others into constructive drivers of positive change. In this step, you will create the conditions for liberation beyond your old painful patterns in love. You will awaken to your power to radically evolve how you live---and how you love.
---
Step Two: Reclaiming Your Power & Your Life
~In step two of your Conscious Uncoupling process, you'll let go of being a wounded victim of love, shifting your perspective away from blaming and shaming yourself (and others) to take personal responsibility for your part in what happened. By doing so, you'll start to see how you have been the source of your own suffering in a way that liberates you from ever repeating this dynamic again. You will be empowered to evolve beyond your disappointing patterns in love.
---
Step Three: Breaking the Pattern, Healing Your Heart
~In step three of your Conscious Uncoupling process, you'll be supported to see your "Source Fracture" story clearly. You will understand how this painful, unconscious, false belief is at the root of your repetitive, painful, patterns in love and relationship. Perhaps for the first time, you will access the deeper truth of who you are.
---
Step Four: Becoming a Love Alchemist
~In step four of your Conscious Uncoupling process, you'll awaken to yourself as a powerful co-creator of your life. Steeped in practicality, you will learn how to generate a positive future for yourself, and others, no matter how hurtful or hard things have been until now. For at this point, you can begin to make choices, and take actions, that promise to graduate you from the painful patterns of your past. You will learn how to radically transform the dynamic between you and your former partner to reflect the truth of your value and power. By doing so, you'll allow for the emergence of a new, healthy, dynamic. In this step, you will also ensure that the life you're embracing will be greater than the one you're releasing.
---
Step Five: Creating Your Happily Even After Life
~In the fifth and final step of your Conscious Uncoupling process, you will be supported to make wise, healthy and life-affirming decisions as you take on the essential tasks of reinventing your life. You will set up vital new structures that will allow you, and all involved, to thrive after this transition.
Having been consumed by the loss of a love relationship, you may not yet be fully aware of the beautiful life that is waiting for you on the other side of this grief. And while your new life may look different than the one you left behind, you will be guided in becoming an authentic, self-loving, version of yourself capable of harmony with your former partner---as well as unprecedented, new, love.
---
Sessions are conducted via phone, Skype or FaceTime.
To schedule a private Conscious Uncoupling introductory session with Melissa,